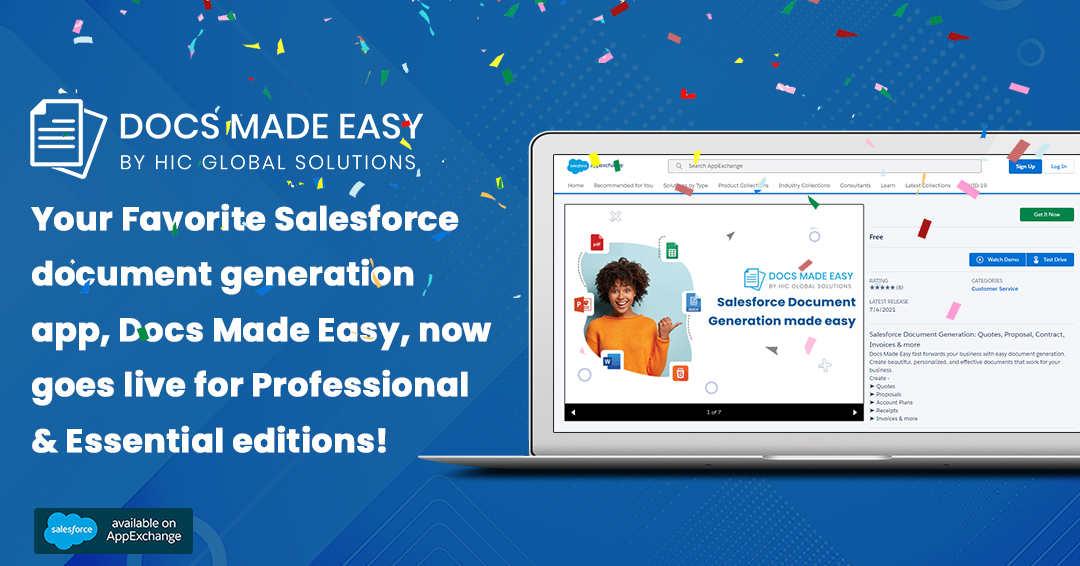 Docs Made Easy Goes Live for Professional & Essential Editions: How it helps!
Your favorite Salesforce document generation app is now available for Professional and Essential editions. But, how would it help you? With Docs Made Easy for Salesforce, you can create consistent and uniform business documents at all times. Create the document of your choice in any format and get the desired results. 
Many businesses rely on their in-house teams, salespeople for their document generation, and it is nothing but time-consuming. You can automate the document generation process and create documents with just a few clicks. So, let's see how Docs Made Easy helps your business.
Docs Made Easy for Professional Edition
We know you want all the features of your CRM platform, which is why you have the professional edition. Now, create beautiful and effective digital documents with Docs Made Easy, even for your professional org. Use Salesforce's easy-to-use customization, integration, and administration tools for your business while creating the best documents.

Docs Made Easy for Essential Edition
You have the right Salesforce edition for your business that allows you to get started with the CRM quickly and easily. Now, with the essential edition, you get Salesforce's easy-to-use UI and administration tools to customize your deployment as you grow.
Complete Customer Cycle Documents: Now, starting from the beginning to closing those deals, you need to plan all documents. The proposal, quote, to agreement all things in one place. Docs Made Easy allows you to create documents from the start till the end. 
Quotes, Orders, and much more: Create and send beautiful-looking quotes, proposals, invoices, contracts, orders, and more, easily when you have a Salesforce document generation tool for your professional org. 
Customizable Documents: Close those deals faster with customized digital documents. Now, your sales teams can focus on your business goals rather than the documents.
Creating and sending documents in Professional & Essential editions has never been easier than this. If you want to create beautiful yet effective digital documents, get your hands on the most popular document generation app on Salesforce AppExchange.