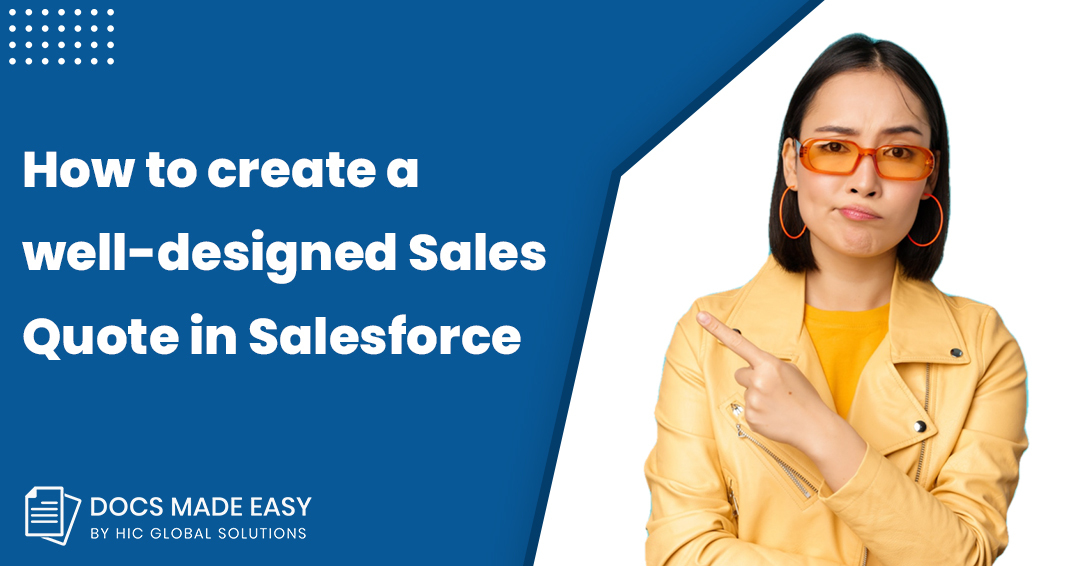 How to create a well-designed Sales Quote in Salesforce
A Sales Quote is an essential document in the Sales team as it lays the prices of your products or services, applicable discounts, and relevant terms and conditions.
Hence, creating winning Sales Quotes that impress your potential client and outshine competitors becomes even more significant.
As your trusted Document generation software provider, we have always curated content that helps you streamline and simplify your data management across the Salesforce platform.
We have previously shared how you can create compelling contracts, Sales proposals, and invoices in Salesforce. So continuing our efforts, we are here again with another blog to share how you can create a well-designed Sales Quote in Salesforce. 
So, let's get started!

Basic of Sales Quote generation
We know, Sales Quotes are one of the common documents that are generated by the Sales team. However, despite being an indispensable task, not many companies are well versed in the steps of creating impressive, professionally-looking quotes.
So here are some basic steps for creating quotes that stand out –
Create a header section that contains your administrative and contact info
The main body that highlights your pricings, services, and product info
A footer section describing terms and conditions
Creating header Section:
As you begin, refer to your brand guidelines to ensure your quote matches your brand identity. You may get experimental with tones but should ensure that the tone reflects your brand voice and also aligns with your client's preference. 
Besides, you should also maintain brand consistency throughout the document to give that professional look.
After that, start by adding administrative details like your and your client's contact information, date, time, etc in a clear format.
You can also add an additional section for providing subject information or details about the project.
Creating the main body:
Here comes the main section which is created for your prospects to see your offerings.
As this section is the most reviewed part of the document, it must remain organized and easily intelligible.
Create a table that presents products or service details, along with pricing, quantity, discounts, and grand total in corresponding columns that are easy to understand and refer to.
As the Quote body is a crucial segment in the document, errors while manually inputting data might have serious repercussions. Hence using tools like Docs Made easy would be a wise move.
Add footers:
This section is quite essential as it displays the applicable terms and conditions. Make sure to clearly state the relevant conditions and payment details to avoid any dispute or misunderstanding between both parties.
As mentioned above, document generation tools like Docs Made Easy are efficient tools to create stunning Quotes seamlessly in Salesforce. 
You can get rid of manually entering your offers by using these tools that deliver error-free quotes with your pre-set templates every time.
So, if you are looking to generate professionally-looking quotes in Salesforce, install the Docs Made Easy app from Salesforce AppExchange today!