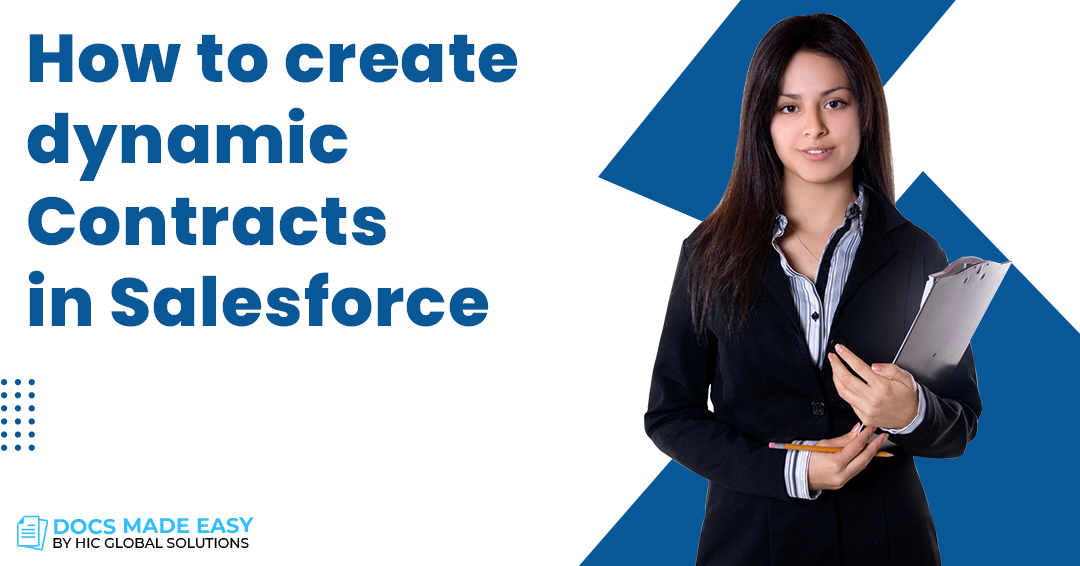 How to create dynamic Contracts in Salesforce
Contracts play an inevitable role in every business, right, from basic agreements to million-dollar deals. 
Yet creating Contracts remains one of the challenging tasks for businesses with no particular process or templates in place.
So, here we are, the most-appreciated document generation software on AppExchange, to help you with some tips to create dynamic Contracts in Salesforce, thereby ending your agreement creation pain points.
So, let us begin!

Creating Contract templates in Salesforce
Businesses can streamline their Contract generation process by creating Contracts with pre-built templates in Salesforce. 
Using efficient tools like Docs Made Easy, you can create stunning Contracts that deliver a professional look and feel, staying in line with your brand image. 
You can also generate custom contracts with data from Salesforce or other third-party sources and send them out to our clients without hassle.
Automate your Contract generation
You can simplify Contract generation by using templates of your choice that represents your brand value. It helps to strengthen your client relationship while boosting productivity. 
Interestingly, Contract generation in Salesforce gets even more efficient with document automation.
You can automate your contract generation by merging real-time data into templates just by using a single click on Salesforce and distributing them across channels.
Isn't that amazing?
Seamless Contract generation with Docs Made Easy
Contract generation and automation get easier and more scalable with Docs Made Easy.
Implementing Docs Made Easy for simplifying your Contract generation delivers the following benefits:
Avoid data entry errors.
Maintain consistency in style, layouts, and languages that reflect your brand style.
Send strikingly appealing Contracts with Rich -formatted templates.
Populate data in seconds.
Save time with Powerful Automation.
Faster delivery process keeping Contracts secure.
Get notified when someone opens the document.
Easy to install and configure.
Thus, go ahead and implement the Contract generation process into your business and solve your agreement obstacles just like that!
If you are keen to try our Docs Made Easy app for an effortless Contract creation, give us a shout by claiming your demo here! We will catch up with you soon!