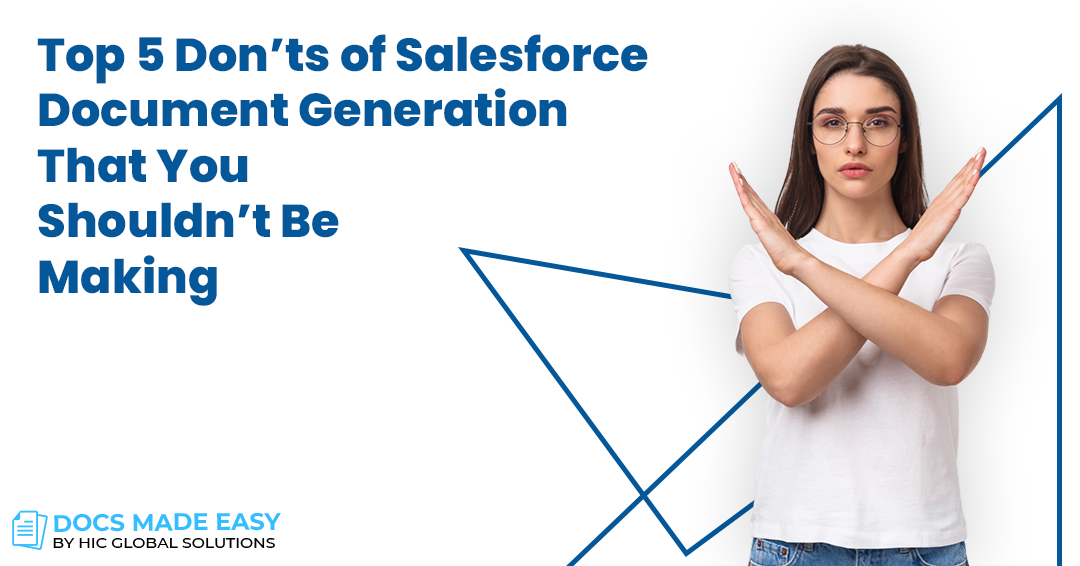 Top 5 Don'ts of Salesforce Document Generation That You Shouldn't Be Making
We all know the importance of documents. They make everything legal for your company. Also, they play an important role in making everything ethical and right. There are a lot of tools out there for Salesforce document generation that businesses use to create and send documents easily. Tools such as Docs Made Easy have the prebuilt document and email templates that make everything fuss-free. However, knowing how to create the right documents is equally important. 
Today, we will tell you the top 5 don'ts of Salesforce document generation that you should avoid at any cost if you're looking forward to creating professional-looking digital documents.
So, let's start!

Most businesses assume that having a lot of colors in their documents would make them look better. However, that's not the case when it comes to professionalism. Colors do make a difference and keep readers' attention, but doing it incorrectly may harm your business' reputation.
Choose colors that are not too dark or too loud that may distract the reader's attention. Don't go beyond 2-4 standard colors for your business. Stick to neutral background colors that do not harm the audience's eyes. For example, red on a yellow background- it's a clear NO! 
#2. Starting Without a Defined Structure
You don't want to deviate the reader from the most important part of the document. Don't begin your document without creating a logical structure for it. Think from the readers' perspective and then write down the structure- beginning from what's most important to least important. Also, this will help you limit yourself from adding unnecessary information. 
#3. Making Content Static
This all-digital world is demanding more and more use of dynamic content. A large amount of content is created every day, and we are exposed to dynamic content like GIFs and videos. Add rich compatible media to your documents to please your audience. This digital age is truly welcoming the usage of multiple media. You should try it too! 
We just cannot stress enough. You need to be precise without repeating each part of the content. Try deduplicating the content to not make it boring or confusing. Watch out for sentence structure and make sure that you are not repeating the same thing. Proofread twice before hitting the send button.
#5. Making Grammatical & Punctuation Errors
If you want to create professional documents, you should make sure you are using the full stops and commas in the right places. A never-ending sentence can make the reader confused and impact readability negatively. Frame your sentences nicely and avoid any kind of grammatical or punctuation errors. A good document that is easy to read is all that you need. You may use some tools to make sure that your document is free from errors.
Docs Made Easy is an effective and reliable tool for Salesforce document generation for any company. This allows you to create any kind of document in the formats of your choice. Also, you get notified every time a recipient opens your email! If you don't want to dig a hole in your pocket, then get started with Docs Made Easy for Salesforce document generation. Click here to install!