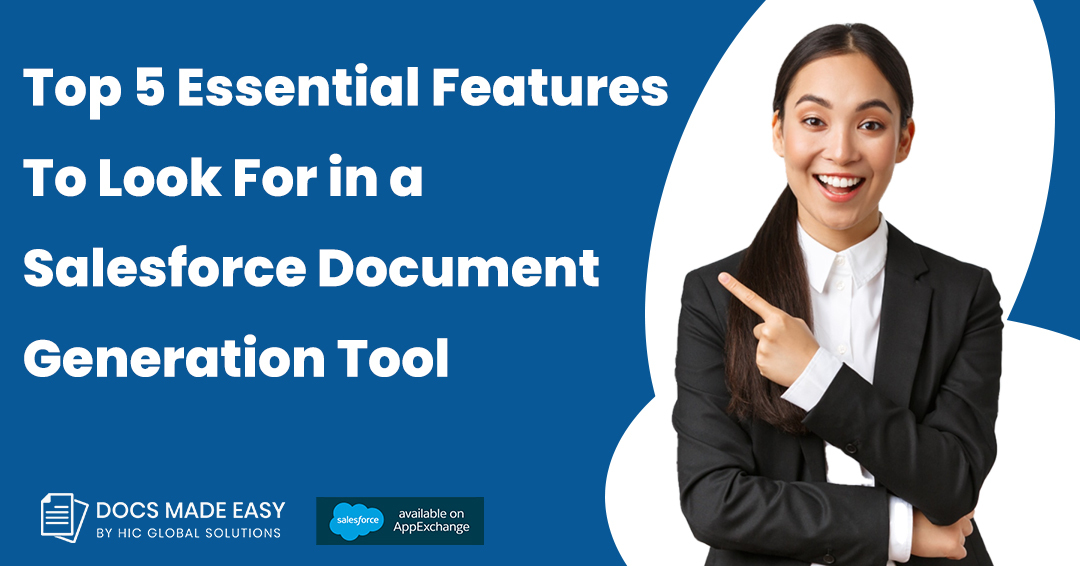 Top 5 Essential Features To Look For in a Salesforce Document Generation Tool
With a Salesforce document generation tool, you can leverage Salesforce data to create professional-looking digital documents. There are a lot of tools available on AppExchange that are marketed as Salesforce document generation tools. However, how to know which one is just the right software for your business? Well, today, we have made this task easy for you.
We are going to give you the go-to guide for the 5 must-have features in any Salesforce document generation tool. So, without further ado, let's just jump in! 

Look for a Salesforce document generation tool that allows you to access its prebuilt or pre-loaded template designs. This feature in a document generation tool gives you the ability to quickly generate documents or emails without having to start from scratch. Thus, this helps your sales teams save a lot of time and quickly close deals with effortless document creation. Also, tools, such as Docs Made Easy, allow you to customize these templates based on your needs and do the variations that you may like your documents to have.
#2. Import Data Functionality
When you look for a Salesforce document generation tool for your business, this feature is everything you need! With this, you can easily create documents using the data that is already there in your Salesforce org, or you may use data from any external sources. This is an essential feature for document generation as it allows you to use the right data (from the right source) in the right document.
#3. Merge & Preview Functionality
You don't want to mess things up by sending the wrong prices in an invoice to the wrong client. This can cost your rapport, and clients can question your business' professionalism. It is always a wise decision to merge and then preview the document you are sending in your email. Just in case, if there's an error, it's always easier to rectify beforehand than regret afterward. Docs Made Easy comes with a merge & preview functionality that makes things a whole lot better!
#4. Multiple Format Friendly
Your business and sales teams need one all-in-one tool rather than multiple tools for different formats. Docs Made Easy for Salesforce document generation allows you to create quotes, proposals, account plans, receipts, invoices, reports, and send emails in Word, Excel, PDF, PPT, and HTML format. Also, you can automatically create documents by merging real-time data into templates with a single click on Salesforce.
It's a complete win-win situation for you if the tool that you're using has an easy-to-use document editor. Often there are times when you want to make a bit of change here and there in your document, but you don't want to repeat the process. In such a case, you can quickly edit your document with just a few clicks. Also, this makes it easy for you to make changes in complex Salesforce platform configurations. 
So these were the top 5 essential features you should know when investing in a Salesforce document generation tool. However, if you don't want to spend a lot of money and want the job to be done, use Docs Made Easy today! The most loved Salesforce document generation tool on AppExchange! Click here to install.