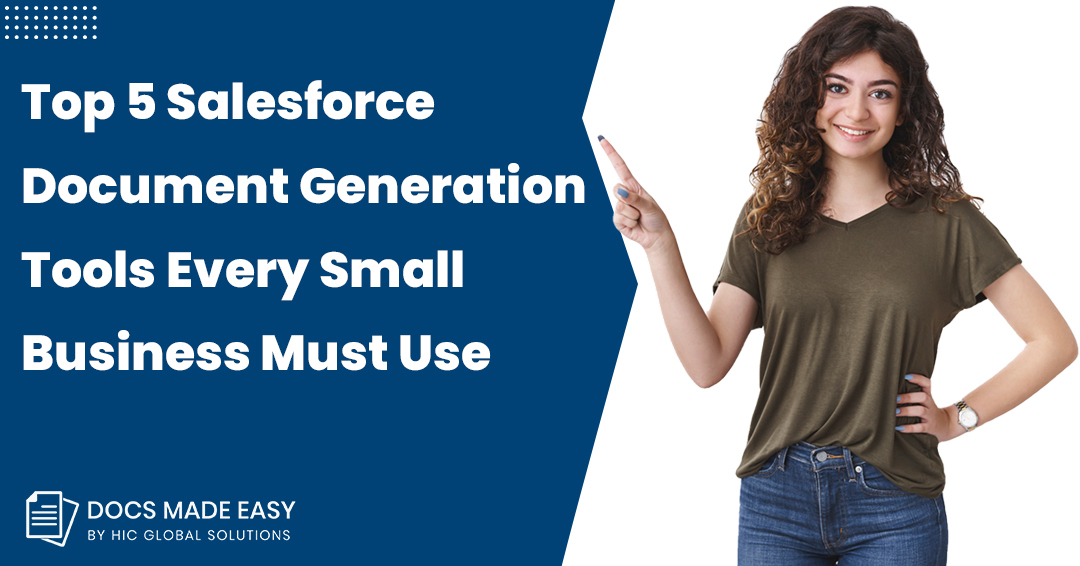 Top 5 Salesforce Document Generation Tools Every Small Business Must Use
Document generation is an integral part of any business. And knowing how different tools differ from one another is important. Small businesses need to automate their Salesforce document generation processes more than anyone. Your sales teams need an automated tool that fast-forwards their daily chores and gives them more time for closing sales deals. So, if you want your sales team to focus on increasing ROI and closing more business, then you should try a document generation tool.
Today, we have listed the top 5 Salesforce document generation tools that every small business must use. Let's begin to see what makes them different from each other.

Conga Composer allows you to share crucial business information and data through effective digital documents. Small and Medium businesses can use Conga to streamline their document generation process and tailor documents according to business-specific needs. You can use the prebuilt templates or customize them to create accurate digital documents with data automatically populated from Salesforce.
Conga Composer allows you to eliminate any roadblocks or errors that come in your way of document creation. Furthermore, you get insights into your documents, such as getting notified or history, to increase visibility on business cycles. You can create documents like quotes, proposals, contracts, invoices, work orders, account plans, shipping documents, and more.
Docs Made Easy is an ultimate tool for business success, whether you have a small or huge enterprise! The tool helps you create accurate digital documents at all times without a fuss. You can use this tool even if you have limited or no technical knowledge. Your business can shine bright and maintain a good rapport with customers with consistent and beautiful-looking digital documents. 
You can use the data of your choice – from Salesforce or any external source and merge it into your documents. You can create quotes, proposals, receipts, invoices, account plans, and more. Also, the tool comes with a merge & preview functionality so that you can see what exactly you're sending to your customer. Docs Made Easy also has prebuilt templates that you can customize based on your needs. Further, you can choose the output format of your choice – Docx, Excel, PDF, or HTML.
With Formstack for Salesforce document generation, you can streamline your paperwork process. If you want to put a full stop to manual work and supercharge your team's energy, you should try out Formstack. Also, Formstack documents allow you to upload, merge, and deliver documents faster than how you'd normally do. You can easily customize the different types of documents and merge them with data in Salesforce. After creating your document, you can send them on emails, google drive, or a third-party integration via Webhooks.
#4. Nintex Drawloop DocGen
This no-code document generation on AppExchange is perfect for just any business. It's good for your teams that have no coding experience to create accurate digital documents efficiently. You can quickly generate documents and merge data into Word, Excel, PowerPoint, or PDF documents. If your business is engaged in Communications, Education, Financial Services, FedRAMP Certified Government industries, Healthcare & Life Sciences, or Real Estate, you should try Nintex Drawloop from Salesforce AppExchange.
Docomotion can be the right tool for any SMB. You get full support integration with Salesforce Process Builder and Visual Flow with Docomotion. Also, you can reduce your business's IT and administrative costs as it does not require any coding. Docomotion allows you to quickly and easily create and edit documents via MS Word-based template editor. With this, you can maintain an all-around consistency for your business documents. Further, Docomotion is fully functional in Sales Cloud, Marketing Cloud, Service Cloud, Communities, Portals, Lightning. Also, it comes with an in-app e-signature & file attachment feature.
This was it! Top Salesforce document generation tools for your small business. Docs Made Easy helps you create professional-looking documents that convert. You get the choice to create any type of document in any format of your choice. So, if you wish to try Docs Made Easy for your business, then click here. We'll be back soon. Stay tuned!