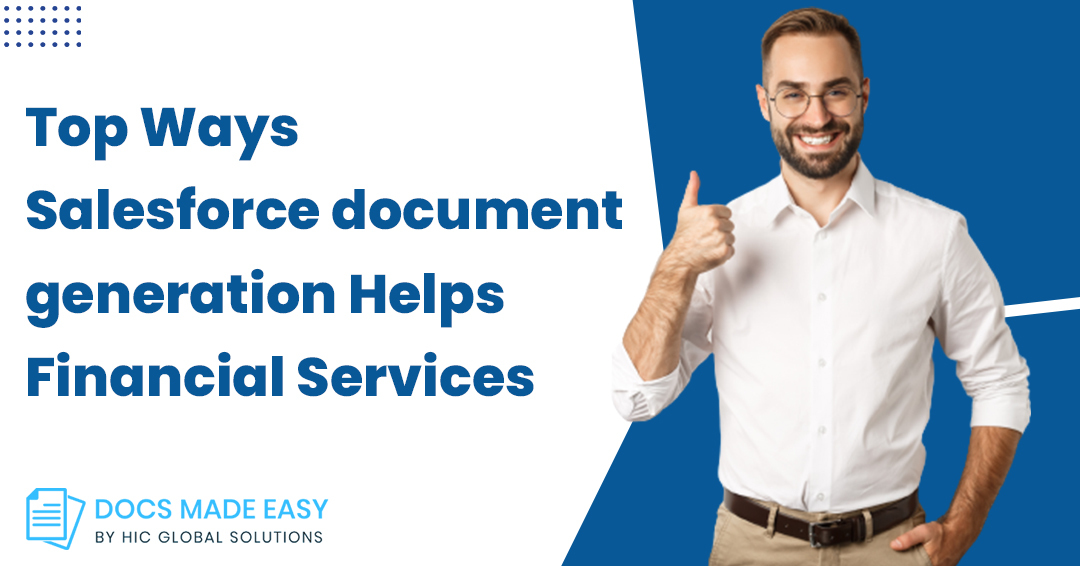 Top Ways Salesforce document generation Helps Financial Services
Every organization requires different documents to transact business, and documents are truly a vital part of every business. Cloud-based document generation software is excellent for matching up with the ever-so-growing needs of the financial sector. These tools meet security and compliance needs and also help you outshine competitors.
Let's know the top ways Salesforce document generation helps financial services! 
Why You Should Use Salesforce Document Generation Software for BFSI
Helps you

increase operational efficiency

by generating documents in minutes rather than hours.

Reduces the workload

of your employees by having document generation software in your business process.

Deliver

customized documents

and boost customer engagement.

Stay

consistent with your business documents

by using dedicated document and email templates.

Develop great documents that

add value to your business' decision-making process

.

What Documents To Automate for the Financial Sector?
Capital Call Letters:

For your financial business, you may want to automate and personalize capital call letters for your investors. With

Docs Made Easy

, you can generate such documents quickly and easily.

New Account Onboarding:

You can streamline the process of new account onboarding with document generation software and give them the seamless experience they deserve.

Tear Sheets:

You can create tear sheets for investment by using

document generation software

that easily merges data from Salesforce or any other database to them. 
Docs Made Easy for Salesforce Document Generation
Use Salesforce document generation tool Docs Made Easy to create effortless digital documents easily. With Docs Made Easy, your teams can generate professional-looking documents with a click of a button. The tool has a simple UI and intuitive interface, which is just perfect for the non-IT teams out there.
Docs Made Easy enables you to send personalized documents to your clients that help you boost customer loyalty and build brand value. Also, with this, you will maintain an all-around consistency in your documents. 
Salesforce document generation truly helps financial services. We hope that now you know the importance of document generation tools for your business. If you're looking forward to trying Docs Made Easy, then click here. It's built for non-IT teams which saves time more than anything. Now you can create documents without digging a hole in your pocket!