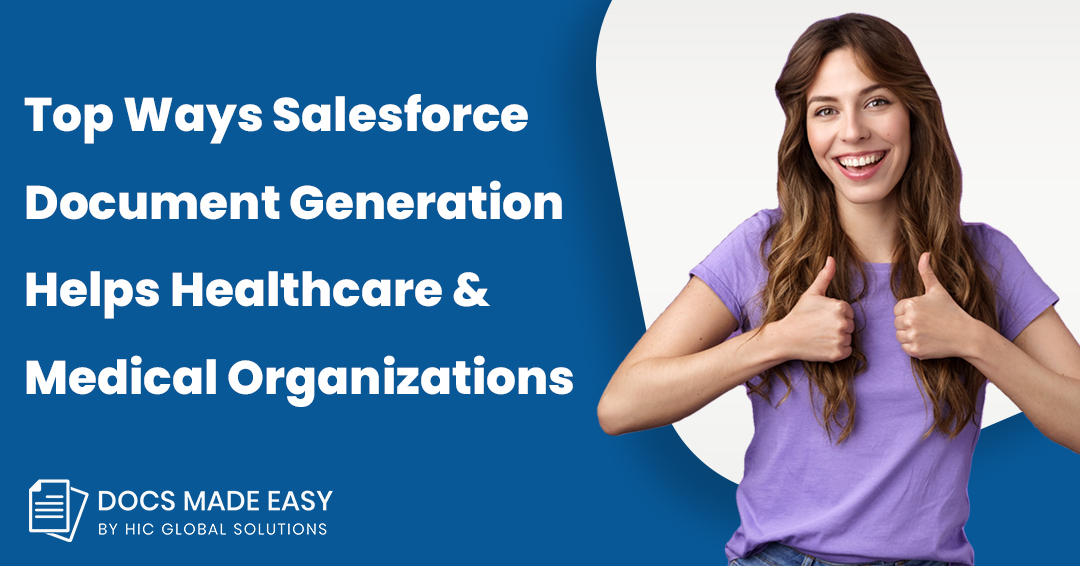 Top Ways Salesforce Document Generation Helps Healthcare & Medical Organizations
Many healthcare organizations wish to migrate their crucial business and patient data to the cloud. However, it's difficult to find the right tool that ensures compliance with the strictest data security standards for health – HIPAA. 
Gone are the days when you would indulge in files and papers, filing cabinets, and drawers while harming the personally identifiable information (PII). With Docs Made Easy for Salesforce document generation, your teams can have access to the right tool to shift their attention to where it is needed. 

Why Salesforce Document Generation for Healthcare?
As a healthcare organization, you need to automate your business processes to meet the demands of this fast-paced industry. You cannot compromise on critical patient information and also want to get things done faster than before. For your business, Docs Made Easy for Salesforce document generation is the solution! 
Simplify insurance claim processes and reduce manual errors

Maintain compliance with HIPAA

Automate agreements, invoices, and related documents

Create medical documents with prebuilt templates

Get access to real-time notifications

Manage document visibility
With Docs Made Easy, you can create professional digital documents with just clicks and no code. It is just the right solution for your non-IT teams. Our effective Salesforce document generation tool allows you to streamline the creation of documents such as:
Complex medical forms

Patient reports

Treatment plans

Post-visit assessments

Find representative case logs
Top Benefits of using Salesforce document generation software
Staffing Management
You can now maintain and track physician staffing roasters and credentials with Docs Made Easy. Also, you get access to an intuitive UI that is suited for your business teams to focus on patient health instead of complex paper trails.
Claims Processing
You may know how difficult it is to process insurance claims as often it leads to inconsistencies and errors. You can increase the efficiency of your claims process with smart, well-versed software with preselected templates that ensures compliance and is easy for your users. Thus, reducing human errors.
Deliver Care
With Docs Made Easy, you can provide better health experiences to members, plans and payers by digitizing the medical records, improving transitional care, and simplifying the process of discharges. 
And this is how Salesforce document generation software helps a healthcare organization. If you're looking forward to trying out Docs Made Easy for error-free digital documents for your medical business, then click here. You can generate any type of document in the format of your choice with this thoughtful tool! We will be back with another blog soon. Till then, happy reading! 🙂