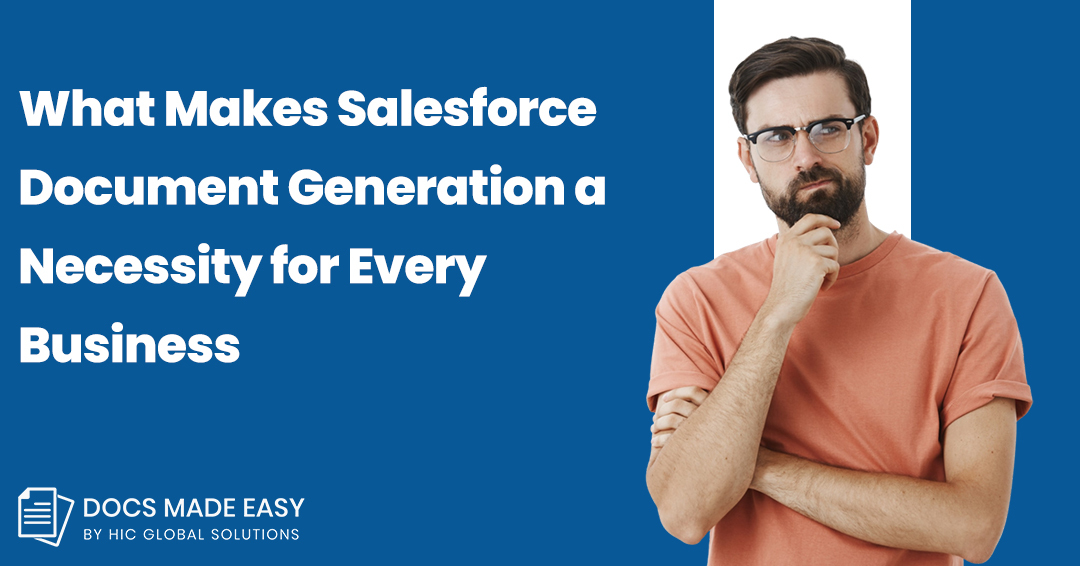 What Makes Salesforce Document Generation a Necessity for Every Business
Document automation speeds up your entire sales process and creates error-free digital documents. It is estimated that over 100,000 companies across the globe are using Salesforce document generation for their documentation needs. So what are the capabilities of a document generation tool that they have figured out? There are several reasons why businesses rely on document generation tools to create professional-looking documents. 
These documents are accurate, eye-catching, and require the least manual intervention of your team members. Today, we will tell you the top reasons that make Salesforce document generation a necessity for every business.
So, let's dive in!

#1. Acts As a Backbone for Your Sales Team
A Salesforce document generation tool allows your sales team to stay focused on closing more deals rather than locating and sending digital documents. Your sales team gets access to a better document workflow that streamlines the entire process- from start to finish! This also means that, on average, a team member can save up to 15 hours per week and utilize it to reach out to more prospects. 
#2. Strong Data Compliance powered by Salesforce
The uniform workflow that the Salesforce document generator gives you can make you feel secure. With Docs Made Easy for Salesforce document creation, you don't have to worry about the security of your crucial business data. Your data doesn't get saved on the tool's server. Also, it never leaves the cloud while processing your digital documents. 
#3. Speeds Up Process Exponentially
Your Sales team will have to spend significantly less time on formatting, cutting, and pasting information from one document to another. With document automation, you can easily create any type of document in the format of your choice. Also, Docs Made Easy comes with handy document and email templates that make everything so much easier and faster.
#4. Makes Teams Self-Reliant
A document generation tool for your business allows your new employees to become functional users and self-reliant. This would help them to do their daily tasks faster with just a day or two sessions of training. And thus, it will make them take on duties and responsibilities quicker. Ultimately, you will have to spend less time coaching them on their duties.
#5. Enhance Data Security Efforts
By implementing a Salesforce document generation tool for your business, you are coming one step closer to your business' cybersecurity efforts. Docs Made Easy and some other tools for Salesforce document generation come with robust encryption that keeps your data and business safe from breaches and malware. 
So now you know what makes Salesforce document generation a necessity for your business. If you're looking for a handy tool that does the job without digging a hole in your pocket, then Docs Made Easy is the solution for you! Click here to install the #1 Salesforce document generation tool on Salesforce AppExchange.