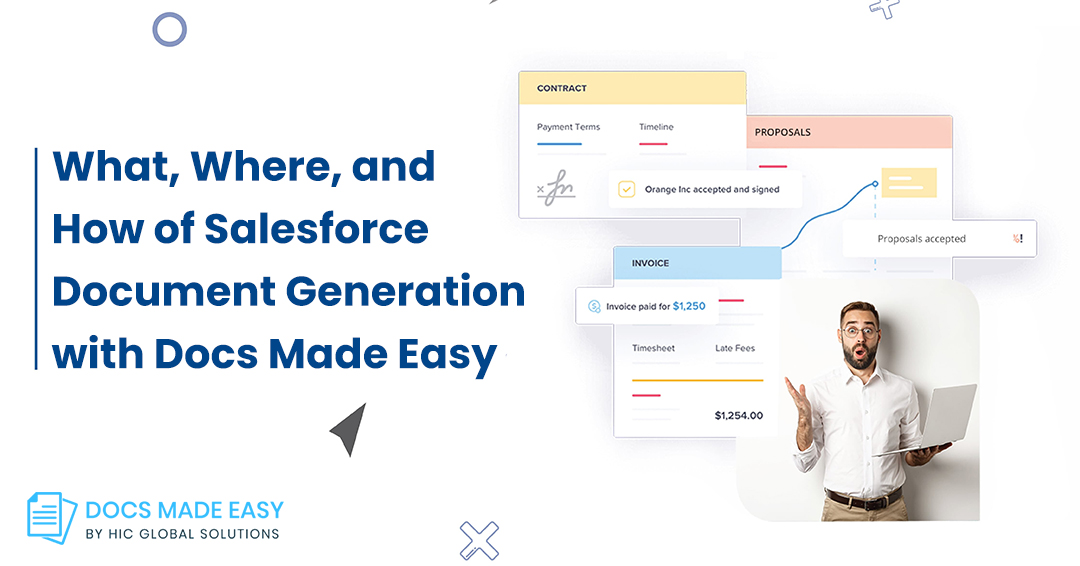 What, Where, and How of Salesforce Document Generation with Docs Made Easy
Document creation is one of the most important aspects of any business. And knowing what tools can help you get the most out of your efforts is important. With just one Salesforce document generation tool, you can minimize the number of errors and boost the productivity and ROI of your business.
Also, you can save up to 15 days a year that would go into locating and creating documents for various clients. So, without further ado, let's just know the what, where, and how of Salesforce document generation. And see how Docs Made Easy helps.
So, let's begin!
What is Salesforce Document Generation?
The creation and management of digital documents directly in Salesforce by combining data from different sources to generate PDF, Docx, or HTML documents can be called Salesforce document generation. Along with this, the capability of sending a document from one platform, giving a single source of truth, is Salesforce document generation.
Docs Made Easy is a Salesforce document generation tool available on the business app marketplace AppExchange that allows you to create and send documents directly from Salesforce.
What types of documents can you generate?
You can create any kind of document in the format that you want. Docs Made Easy helps you with the creation of documents used in a sales cycle. 
Contracts: Contracts are complicated documents that require a lot of time and effort from your sales teams. With Docs Made Easy, you can create, track, and manage contracts with just clicks and eliminate any kind of errors. 
Quotes: For different projects, you need to quote differently, and as per the quantity, hours, and work, the pricing changes as well. You can automate price quotes according to your customers' requirements.
Proposals: Proposals can put you in a high-pressure situation. You need to customize them according to your client's needs and wants. There's no such thing as one proposal that suits all. 
Invoices: You need to pay and get paid on time to increase your credibility with stakeholders. You can create error-free invoices directly from Salesforce with Docs Made Easy.
Also, you can create work orders, a Statement of Purpose, and any other kind of document of your choice.

Where to create your documents?
You can simply start creating your documents by first installing the Docs Made Easy app from Salesforce AppExchange. After this, with just mere clicks, you can begin creating your professional-looking digital documents.
Also, you can use data from Salesforce or import data from external sources; that's all up to you. With our thoughtful creation, you can harness the power of Salesforce beyond the built-in tools. Hence, you can create, build, and design flexible documents that import and export data efficiently. 
How to create your document?
Docs Made Easy allows you to use its prebuilt document and email templates. Also, you can customize these templates or use your own templates. You can create Contracts, Proposals, Work Orders, Invoices, Quotes, Receipts, and so much more in the formats that you like. The formats include PDF, Docx, HTML, and XLS.
The documents can be generated and sent with just a click of a button. Further, Docs Made Easy allows you to preview the document created with just one click.
We hope that this blog helped you get all the information about Salesforce document generation. If you want to reduce the efforts of your sales teams and automate document creation, you can try the Docs Made Easy app. Simply click here to get started!