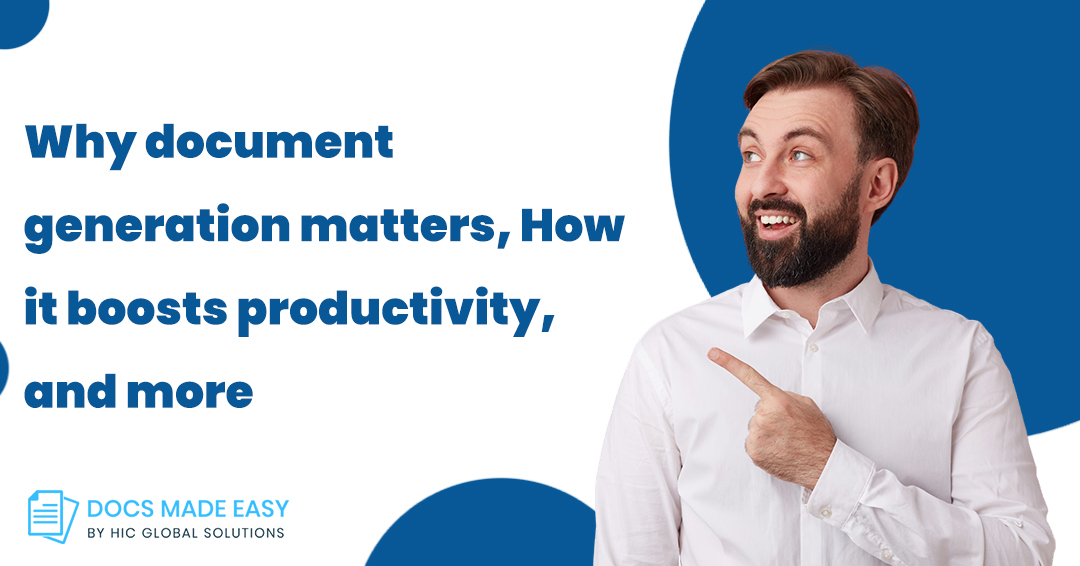 Why document generation matters, How it boosts productivity, and more
Now and then, you feel the need to adapt to constantly changing technologies and trends for your business. Salesforce document generation is no different; it requires quick adoption, understanding, and learning of the right tool. 
Your business might have moved from traditional handwritten documents to cloud-based files, but it is also important to automate your document generation to save some additional time. Storing, sending, and receiving files on the cloud is one thing but automating the process of document creation is another.
Today, we will tell you why document generation matters and how it helps you boost your business' productivity in this blog. So, without further ado, let's just jump right in! 
How does a Salesforce document generation software work?
Using Salesforce document generation software, you can easily create and send effective and professional-looking digital documents. Tools such as Docs Made Easy are available on Salesforce AppExchange that you can simply install and start your document generation. 
You can use the prebuilt document and email templates to create your documents. Also, you can use the prebuilt email templates to send compelling emails directly from Salesforce. Not just this, you can also customize your documents based on your choice.
So, it's a win-win situation for all you business owners out there! 

Why does Salesforce Document Generation Matter: the benefits
A document generation tool brings you a long list of benefits. So, let's see how Docs Made Easy for Salesforce document generation can help!
Save Time
You can create several documents in less time. Also, you can create contracts, quotes, proposals, invoices- in the half time that you would normally spend. 
Eliminate Errors
Accuracy in documents matters a lot. Error-free documents help you build a positive impression in the minds of your customers. With a document generation tool, you can eliminate human errors significantly.
Better Branding 
With consistent branding across the organization, you can create better branding for your business. This also means that the logos, colors, text, font, etc, remain alike throughout.
Scalable
Now you would never have to take some extra time to do the paperwork. Docs Made Easy helps you to quickly close deals. With this, you can create any amount of documents anytime.
Deliver a better customer experience
Great documents, great rapport- and thus, deliver a better customer experience. Your customers will be happy to see your ability to quickly create and send documents with consistent formatting and branding.
So now you know why you should use a Salesforce document generation tool if you aren't already. Also, if you're considering using Docs Made Easy, then click here. With this, you can create professional-looking documents without even spending a penny.