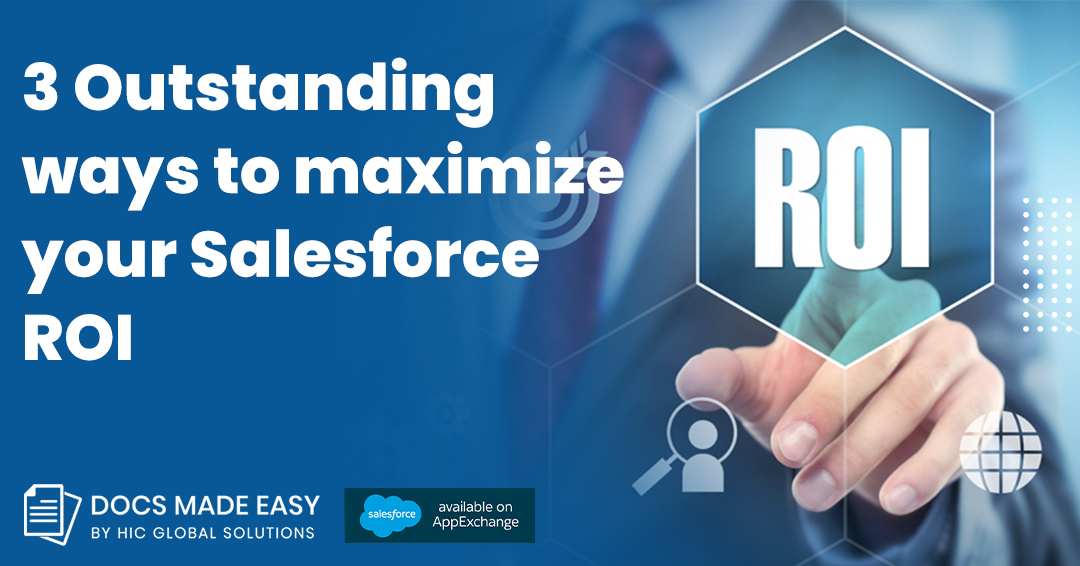 3 Outstanding ways to maximize your Salesforce ROI
Investing in Salesforce is a big step towards delivering customer satisfaction and boosting sales for your company.
So, maximizing the Salesforce ROI ( Return on Investment) is also crucial to increasing your profit margin.  
Given that Salesforce has robust offerings, it sometimes gets confusing to determine how to derive the most out of Salesforce org.
Hence, to ease your ROI maximization strategy, we have outlined some best practices whose implementation would certainly help you increase your Salesforce ROI. Here they are!

Best practices to maximize your Salesforce ROI
Utilize your Salesforce data to derive more value
One of the biggest advantages of the Salesforce platform is that it stores all your data in an accessible single platform. But sadly, about 2/3rd of this data goes unleveraged and unused.
In order to maximize the ROI of their Salesforce orgs, businesses must maximize the value of this data. And one way to do it is by using them in the Custom fields feature of Salesforce.
You can add any specific data into custom fields that are not included in your object's Standard field and keep track of them.
Besides, Salesforce's 'Reports' feature enables you to process your collected data in an efficient way.
And most importantly, some AppExchange tools like Docs Made Easy empower you to incorporate your Salesforce data to create business-critical documents like proposals, contracts, invoices, etc seamlessly.
Hence, Utilizing your Salesforce data efficiently not only helps in saving time, increasing productivity, and removing errors but also helps you turn into a data-centric company and improve ROI.
Educate and train your workforce
It is yet another essential thing to do to improve your Salesforce ROI. As mentioned before, Salesforce brings all its features and functionalities in one place. But incompetence to leverage these features throws all of the Salesforce benefits out of the window.
Hence, it is kind of mandatory to upskill your employees and train them for using Salesforce. And the good part is that Salesforce, itself, provides lots of tools and resources to make learning Salesforce easier.
Thus, by taking advantage of Salesforce's multi-faceted training programs, you can strengthen your workforce to adopt, use and get the most out of your Salesforce CRM.
Move to Automation
Automation is the next big thing, and by leveraging it, you can actually increase your ROI a lot faster.
You can automate various processes in your business and boost productivity. For example, you can automate your sales process and empower your sales reps to focus more time on selling than slog on time-consuming, repetitive tasks.
By automating your document generation processes across Sales, HR, Compliance, Service, and Marketing departments, you can not only ensure security benefits and faster work but also, can get improved ROI.
So, if you are willing to maximize your Salesforce ROI, be sure to follow these best practices. Also, you may visit the AppExchange marketplace to find a host of third-party apps that helps achieve that. One such tool is Docs Made Easy. 
With Docs Made Easy, you can automate your document generation by utilizing Salesforce data in a most effective, easier, and quicker way. Click here to get the app today!