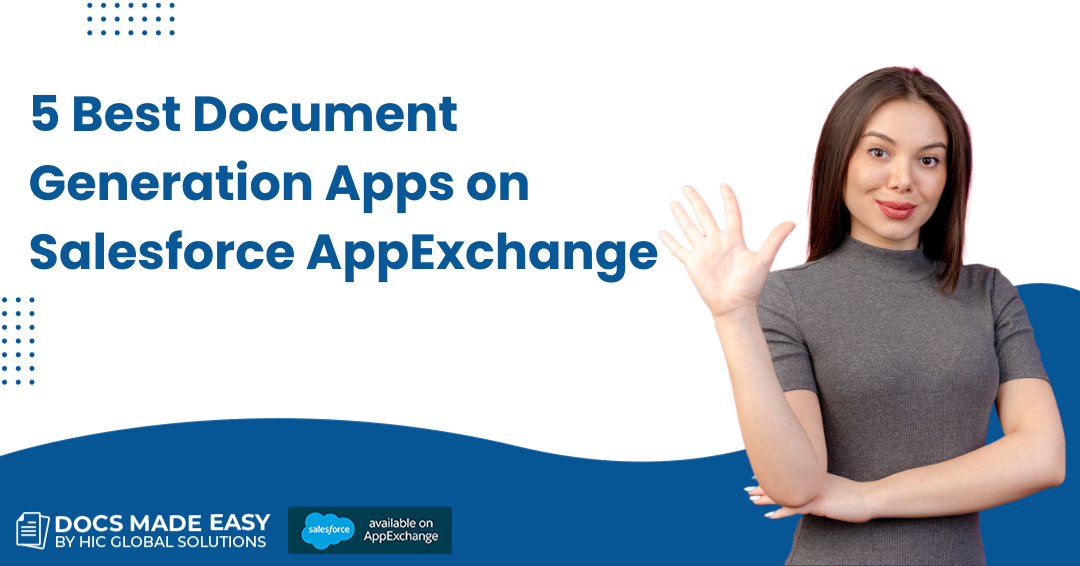 5 Best Document Generation Apps on Salesforce AppExchange
Salesforce AppExchange is a vast marketplace that offers a wide range of applications that can help you customize and enhance the functionality of your Salesforce environment.
With so many apps flaunting their capabilities, it might get a little intimidating for users to choose the one that fits their needs.
So, if you are experiencing the same hardship while choosing the best document generation app for your business, you're in the right place. 
In this blog, we will explore the top 5 document generation apps on Salesforce AppExchange to help you make the right decision. Here we go!

1. Docs Made Easy


An extremely popular app on AppExchange, Docs Made Easy, is a straightforward tool that creates professional documents by using Salesforce data within a few clicks or from external sources.
Known for its simplicity and immediacy, Docs Made Easy offers merge & preview, real-time data population functionality, and document generation in a variety of formats such as PDF, Word, and Excel. Plus, the app is free for all users. However, if you need customization, you can reach out to their dedicated support team at affordable prices.
2.
Conga Composer


Conga Composer is a popular document generation app that helps you to create customized documents, presentations, and reports on Salesforce. With Conga Composer, you can generate documents in various formats, including PDF, Word, Excel, PowerPoint, HTML, and email. 
You can also automate your document generation process with Conga Composer by scheduling document generation jobs or using Conga's Batch feature. It is a paid app with prices Starting at $20 USD/user/month. However, discounts are available for nonprofits.
3. DocuSign Gen for Salesforce


Yet another popular app, DocuSign Gen for Salesforce allows you to create, customize, and send documents for signature on Salesforce. It helps accelerates sales cycles by automating the generation of customized sales documents with a few clicks from Salesforce. 
Mainly dedicated to automating the generation of agreements from Salesforce, the pricing starts from $20 USD/user/month.
4.
Formstack Documents


Formstack Documents is a document generation app that allows you to generate customized documents, reports, and presentations on Salesforce.
You can also automate your document generation process by creating workflows that trigger document generation based on specific events or conditions in Salesforce. Pricing starts at $92 USD/company/month with lucrative discounts for nonprofits.
5.
Nintex Drawloop Document Generation


A powerful document generation app, Nintex Drawloop Document Generation helps you create, manage, and automate document processes on Salesforce. 
Apart from creating documents in a variety of formats, you can also automate your document generation process by using Nintex's advanced workflow features, which enable you to create multi-step workflows that can automate even the most complex document generation processes.
All these apps are extremely popular and the most chosen ones by the users. However, if you are looking for a simple, user-friendly, cost-efficient, and no-code solution for your business, we suggest trying out the Docs Made Easy app. Visit Salesforce AppExchange to check out the app today!