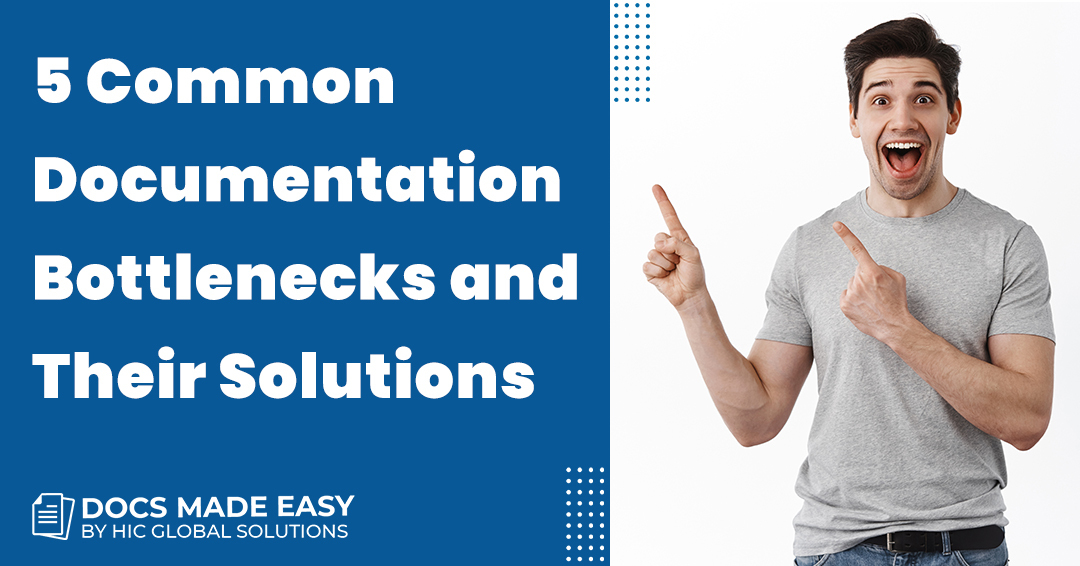 5 Common Documentation Bottlenecks and their Solutions
Manual document processing causes bottlenecks for businesses. These bottlenecks are the blockages that cut down on your company's lifeblood.
So, if you are still managing your documentation manually and your sales team is spending too much time creating quotes, proposals, or contracts, your business is experiencing documentation bottlenecks. 
Here we have shared some common documentation bottlenecks businesses face and how you can crush them. Let's explore!

1. Wasting a Significant amount of time on documentation
Time is of great essence in Sales. Failing to deliver the requested quote, sales proposals, contracts, or renewals on time may deprive you of the deals you have worked hard for. 
Many sales teams waste their valuable sales time on getting documents ready and manually handling the other aspects of documentation.
The root cause of these delays in documentation lies in the outdated, paper-based tedious processes. Eventually, the time wasted on these antiquated processes slows revenue generation.
Solution: Automate your entire document generation process with software like, Docs Made Easy. Generate professional business documents, right from Quote to Renewal, using the pre-built templates pulling Salesforce data instantly.
2. Lack of Uniformity in documents
Consistent and Well-designed documents are crucial to your brand identity and are essential for winning over your customers. Lack of uniformity and wrong content structure makes the document look unprofessional and hard to understand, ultimately dissatisfying your customers.
Solution: With Docs Made Easy's custom-built solution, you can create templates that are uniform and immaculately designed that incorporate complex content such as tables, images, rich text, charts, dashboards, custom fonts, watermarks, and global currencies specific to your business. 
If you are managing document work manually, there is always a likelihood of a high margin of error. Even with limited automation, you can not eliminate the occurrence of errors. 
Errors in documents affect your customer experience and, in worst cases, may land you in legal trouble.
Solution: Document generation tools like, Docs Made Easy generate documents by pulling data right from your Salesforce CRM in real-time. As there is no manual intervention, data input is accurate and quick.
With too much manual work to do for document processing, teams lose lots of time that they could otherwise invest in other productive work. Plus, heavy manual work raises the chances of errors, which in turn overburdens the team with heaps of rework. It certainly hampers overall productivity.
Solution: Docs Made Easy provides document automation that increases efficiency, supercharging the productivity of the team members.
5. Delay in sending documents
Sometimes, even after the document is ready, teams take ages to send them to the client. Delay in sending documents impacts the customer experience badly. You can limit how you do business without flexible options to send documents automatically.
Solution: Send out documents automatically to your contact list in Salesforce after you have generated them with Docs Made Easy. Not only this, you can amplify your customer service with alerts that send notifications when the customer opens the document. 
That brings the end of today's coverage on documentation bottlenecks and their solution, the most popular app on AppExchange, Docs Made Easy. Schedule a demo call with the experts to explore more about the app!