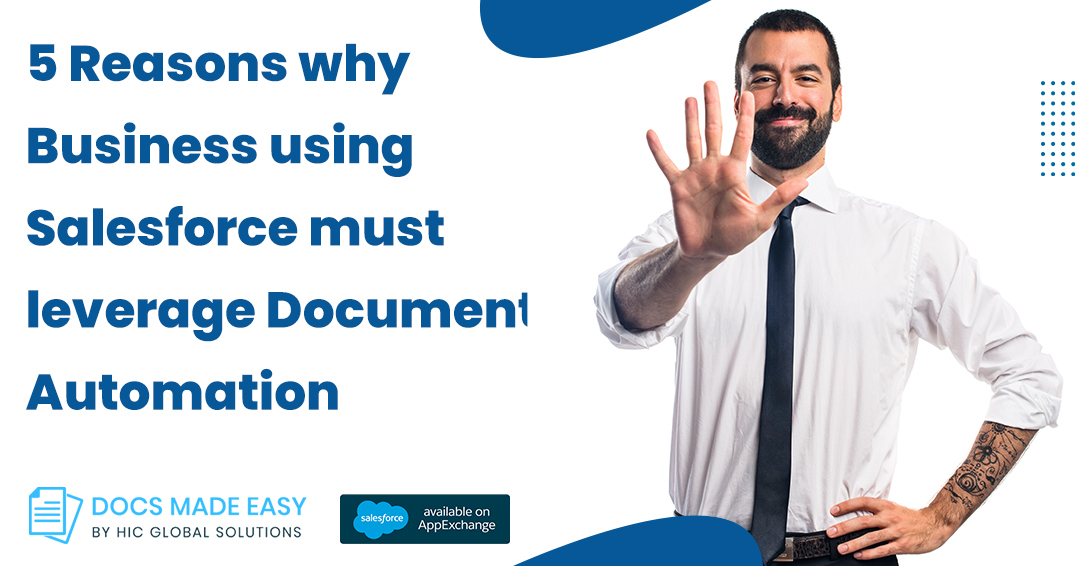 5 Reasons why Business using Salesforce must leverage Document Automation
With Automation taking center stage for simplifying critical processes in 2022, document automation has become increasingly popular in every industry.
As many businesses today use Salesforce CRM, replacing the old time-consuming and error-prone document processes with simplified, optimized, and automated Salesforce Document generation solutions would be a wise move to streamline the processing of mission-critical documents.
Plus, apart from maximizing Salesforce ROI, Salesforce Document Automation also presents a multitude of benefits that drives efficiency.
So, if you are using Salesforce for your business, you must know five uses for Salesforce Document Automation. Here they are-
1. Merging data while generating Reports
We know while creating a final report,  businesses need to merge many reports from other different sources. This makes Report generation extremely complex as it involves data from different data sources leading to the possibility of incorporating erratic or outdated data in the report.
However, this merging of data from disparate sources can be made more accessible and more secure with the Salesforce document generation software. These tools empower you to merge relevant and accurate data from any third-party system in real time, making your report generation seamless.

Very much like Reports, Account Planning is also a complex task that requires pulling data from various apps and systems. As the process of account plan generation is often tedious and disjointed, delivering a smooth account plan presentation becomes a headache for the account team.
With Salesforce Document Automation, you can get a centralized platform that retrieves data from various disparate data sources and feeds into the account app in the Salesforce platform, enabling you to generate an accurate, seamless, and perfect presentation. 
Creating and sending Audit Reports is another important task that can be automated by Salesforce document generation tools saving you time and manual work. 
Taking the help of a custom view, audits can be generated in seconds. With these tools, you can access data from different sources in Salesforce and then analyze it to create audit Reports. Once the audit is complete, you can automatically email them to your contacts.
Yet another benefit of using the Salesforce document generation tool is template automation.  As businesses need to send contracts or proposals quite often, creating templates each time is repetitive and time-consuming.
Salesforce document generation software helps create professional, sophisticated, and accurate documents using both standard and custom templates. 
So, using these tools you can save your team's valuable time by creating dynamic documents keeping the key as
5. Fast response to Customer Requests
In 2022, responding to client requests faster is crucial to winning deals. With Salesforce Document automation, you can make your business more responsive to customer requests by delivering to them in real time.
With automated templates and real-time data-pulling capabilities, you can send your requested documents instantly without making any errors or compliance issues.
Plus, you can also custom built a response template to address the customer query so that all requests are responded to immediately and every correspondence with the customer stays recorded for future reference.
Thus, we see that the benefits Salesforce users derive by optimizing document processes with document automation are worth considering.
Also, Implementing document Automation with tools like Docs Made Easy comes with lower costs and requires no technical training for deployment. So go ahead and try out the app from Salesforce AppExchange today!