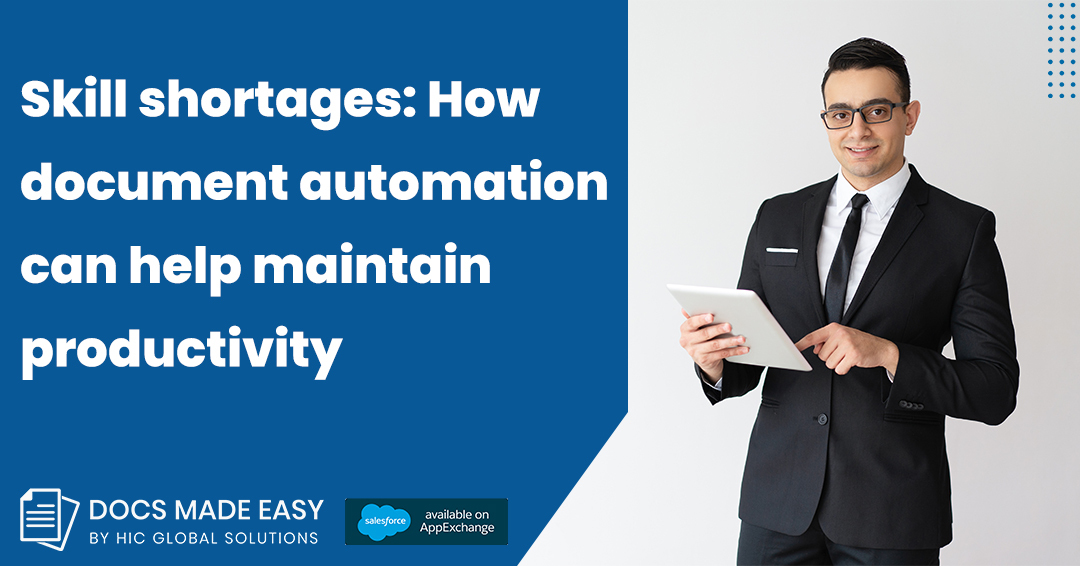 Skill shortages: How document automation can help maintain productivity
Skill shortages are one of the burning issues businesses face today after economic uncertainty.
Studies show that there could be a shortage of 85 million workers globally by 2030, especially in healthcare, manufacturing, and supply chain businesses.
It has also been found that the technology skill gap issues could be one of the contributory factors behind the plunging labor numbers.
Naturally, the skill shortages are impacting the productivity and the overall growth of businesses. However, to cope with the loss of productivity due to the ongoing labor crisis, automation can help.
In this blog, we will share how document automation can help you maintain productivity and efficiency cost-effectively. So, let us find out!

Automate mission-critical document creation
Deploying document automation helps you leverage the benefits of Automation technology to streamline your mission-critical document creation process. 
By automating this crucial aspect of your business, you can save the time and effort of your workforce to focus on other critical tasks. 
With powerful workflow automation, you can set triggers to create immaculate documents like contracts, invoices, and proposals using real-time data from the CRM system or any other central repository and get rid of tedious repetitive tasks.
Do multitasking to drive efficiency
Document automation using automated document generation software not only helps you generate tailored documents for your specific business needs but also ensures data security and compliance while creating accurate error-free documents.
Plus, you can collaborate on documents from anywhere enabling easy accessibility and efficiency for remote workers.
Hence, one single document automation software can drive productivity, compliance, security, and collaboration at a time, helping you sustain growth despite labor shortages.
Reduce cost, deliver an impactful customer experience
It may seem a costly affair to invest in automation, but in reality, many automated software generation tools are relatively inexpensive or free. In addition to that, you dont any technical team to train your workspace to use them, These tools are mostly easy to configure and require no additional technical knowledge to use.
With the real-time functionality, you can instantly deliver the requested document to your client in real-time strengthening the bond with customers.
Therefore, by leveraging document automation, businesses can combat skill shortages to maintain productivity. If you too are looking for an automated document generation solution, Docs Made Easy would be the right fit for your needs. Visit Salesforce AppExchange to install the app today!