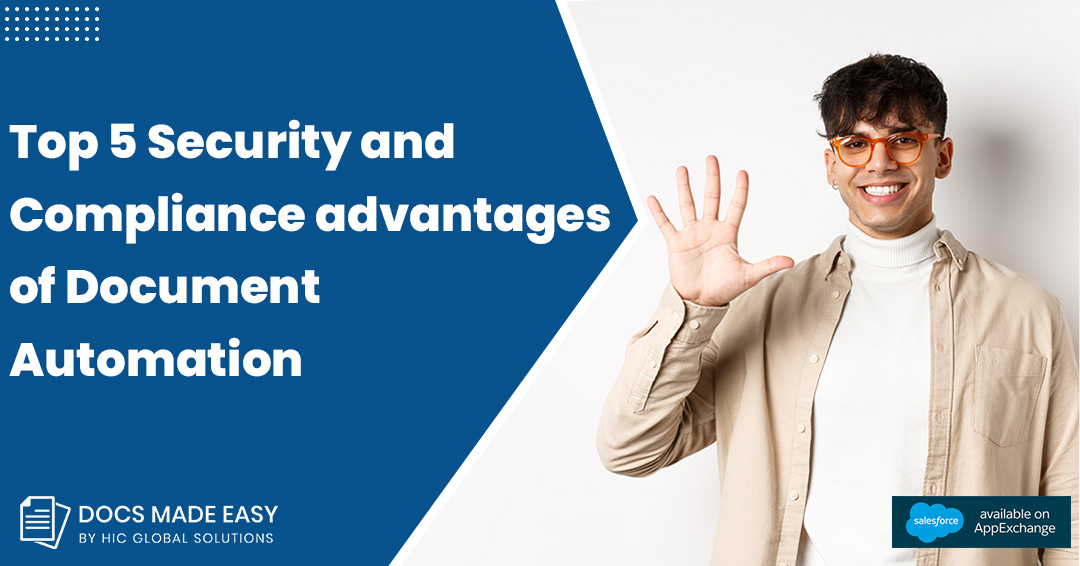 Top 5 Security and Compliance advantages of Document Automation
Implementing Document Automation solutions has some instant benefits for businesses. Your team efficiency and productivity skyrocket as teams focus on high-value tasks saving time from repetitive document creation.
But the benefits of document automation are not limited to increased productivity only. Many other advantages come along when you eliminate the manual component from your contracts, proposals, invoices, and other mission-critical documents.
Among these, the key advantages you will observe are the security and compliance advantages of Document automation.
So in this blog, we will explore how Salesforce Document automation delivers compliance and data security benefits. Let's begin!

Key Cyber security benefits of Document Automation
We know that Document automation is the process of automating document generation by enabling automation to format document templates and populate them with specific pre-defined rules.
As more and more businesses move their operations into Cloud, their documents also move. As a result, it becomes increasingly important for companies to ascertain that there is no threat to data security when comes to document generation.
Fortunately, Salesforce document automation solutions come with capabilities that ensure data security in the following ways-
1. Reversibility
Document Automation in Salesforce usually comes with pre-defined rules that make it a repeatable process.
The biggest advantage of a repeatable process is that it is easier to secure and manage. Reproducible processes are also simpler to track issues. Additionally, whenever there is a glitch, IT teams can spot the issue and tweak them easily if the process is automated.
2. User compliance solution
According to the principle of least privilege, users should get minimum access to systems to avoid abuse of privilege and data breaches.
Salesforce Document Automation applies this principle too. With Document automation, you can lay down conditions to control which documents should be created and set limits to users' access and email sendings.
With this, you can eradicate user compliance issues by setting conditions to safeguard your sensitive data.
3. Safe and Secure Storage
Document automation provides seamless movement of documents from a database to storage. After the automatic creation of your document, it gets stored in a repository of your choice.
This process further facilitates a seamless transfer of documents across systems without you worrying about data loss or leakage.
4. Standard critical documents
There are certain crucial security documents like government contracts that should remain unaltered every time they are sent out.
As Document automation works on pre-defined rules or templates, processing unchanged, standardized documents is worry-free. As documents are created with your set conditions, there is 100% Compliance with your document policies and no messed-up formatting.
5. Reduced human error
As per a data analysis report, '90% of data breaches in 2019 happened due to human error. Source.
From this, we can conclude that reducing human error is mandatory for companies to avert data breaches and security alarms.
That is why document automation is quickly becoming the best way out for businesses to generate documents with confidential information without any chance of human error.
With Document automation, you can avoid these common human errors.
Accidental emailing to external parties.
Sending out documents to the wrong contacts
Including an inaccurate clause in a contract
Providing incorrect quotes and invoices
So are you ready to secure your document generation with the Salesforce Document Automation solution?
Install the Docs Made Easy from Salesforce AppExchange and get started today! You may reach out to us for a demo anytime!