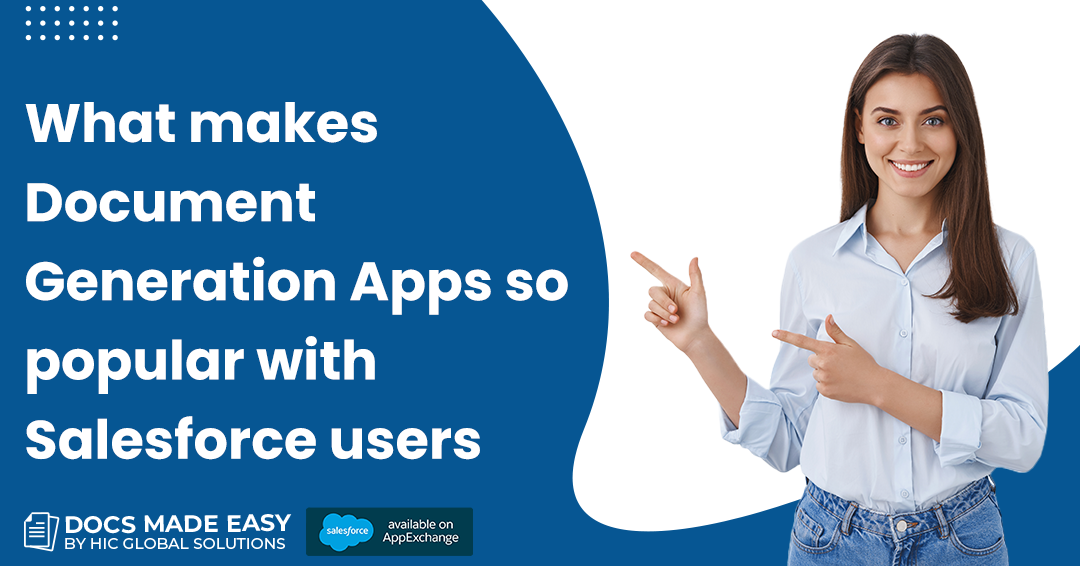 What makes Document Generation Apps so popular with Salesforce users
When it comes to finding document generation apps for Salesforce users, AppExchange is the place to go. There's an app for just about everything, right from document creation to customer relationship management. The sheer number of apps that are related to document creation shows that they're incredibly popular with Salesforce users and can be incredibly useful in many industries.
On the listing, names like Docusign, Docs Made Easy, Conga, etc. often take the top spots each popular for their unique capabilities. But the apps in the top fifteen are quite popular too.
So,it is evident that document generation apps are one of the users' favorite tools for their business. Let's try to find out what accounts for their popularity in this blog today!

4 compelling things that make Document generation apps popular among Salesforce users
1. Saves time with automation
Creating documents can be time-consuming and mundane, but a document generation app can help with that. With a single click, you can generate accurate documents, eliminating human errors and reducing repetitive work. This means you can free up time to focus on more engaging and productive tasks.
Most document automation apps come with customizable templates and prewritten clauses, adding agility to your document generation processes that meet your specific needs. So, save time and energy with document automation!
2. Implements Automated workflows
Creating documents like contracts and quotations often involves multiple people with varied interests. A salesperson may want the contract to pass quickly, while a lawyer wants to ensure it's secure. The project manager has to ensure the contract passes all necessary steps while the CEO wants to maximize returns.
Document automation apps offer automated workflows to chase people, alert them to their tasks, and make the contract available. As most of the B2B sales interactions between suppliers and buyers occur in digital channels, a document automation app really helps in making this process easier and more efficient.
3. Boosts Collaboration across teams
If you are struggling with remote management, a document automation app can help! Through these apps, people can work seamlessly online from anywhere, without ever having to leave Salesforce.
It brings everyone together to collaborate, keeps everyone up to date, streamlines processes, and provides project dashboards and logs to keep managers in the loop.
4. Trusted Security Practices
A great Salesforce app can offer a powerful combination of sophisticated document sharing, customized workflows, and agile automation – all in one package to suit the needs of customers. With each task they carry out, collaborators are presented with the necessary tools, embedded directly in the common Salesforce user interface.
Furthermore, advanced Salesforce document generation apps ensure that data processing is compliant with the EU GDPR regulations on the privacy of personal data. It's worth noting that GDPR compliance is essential for any company that operates on a global scale, regardless of whether they are based in the EU or not – especially since other regions have similar regulations.
Creating documents is an essential part of managing your customer relationships, so make it smooth, safe, and controlled with Salesforce document apps.
Investing in tools like Docs Made Easy will make sure your document creation process is smooth, secure, and efficient with no fuss in setup. Try it out and see the difference! Visit Salesforce AppExchange today!